With the conference held by Ilaria Cinquini on the role held by the study of groundwater, On Sunday 16th September at the Grotta del Vento the event "mysterious rivers – week dedicated to groundwater" ended, it had opened the Sunday before with the conference by Vittorio Verole-Bozzello on karst hydrology.
For the entire length of the event, during the cave tours the guides put particular emphasis on the subject, to sensitize public opinion on the need to protect from any form of pollution water reserves hidden underground, a precious resource for the well-being and survival of the underground world.
Wednesday, Thursday and Friday, an important experiment was done inside the cave, conducted by a group of researchers from Thales Alenia Space, the CNR and SMAT (Metropolitan Water Society Torino). The aim was to test in an environment isolated from external contamination, comparable to that of a space vehicle, a special machine, which will be installed on the ISS (International Space Station) aiming to analyse and correct in real time water to be used by astronauts.
During the course of the experiment, done in one of the busiest parts of the cave, the scientists pleasantly entertained visitors, illustrating the goals and methods of the research, aimed to be used not only in space, but also for use on "Earth" in confined environments (hospitals, prisons, greenhouses, tourist resorts in poor areas) and in the case of serious calamities (wars, earthquakes floods etc.).
In front of a large audience, on Thursday 13th September the researchers held a press conference in the projection room of the Grotta del Vento. Amongst the authorities taking part there was the president of the Regional Council of Tuscany Eugenio Giani, the mayor of Fabbriche di Vergemoli Michele Giannini, the longest elected counsellor of the SSI (Italian Speleological Society) Massimo Goldoni, the commander of the rangers of the Apuan Alps Park Antonio Speroni and the secretary of the Union of Municipalities of Garfagnana Francesco Pinagli.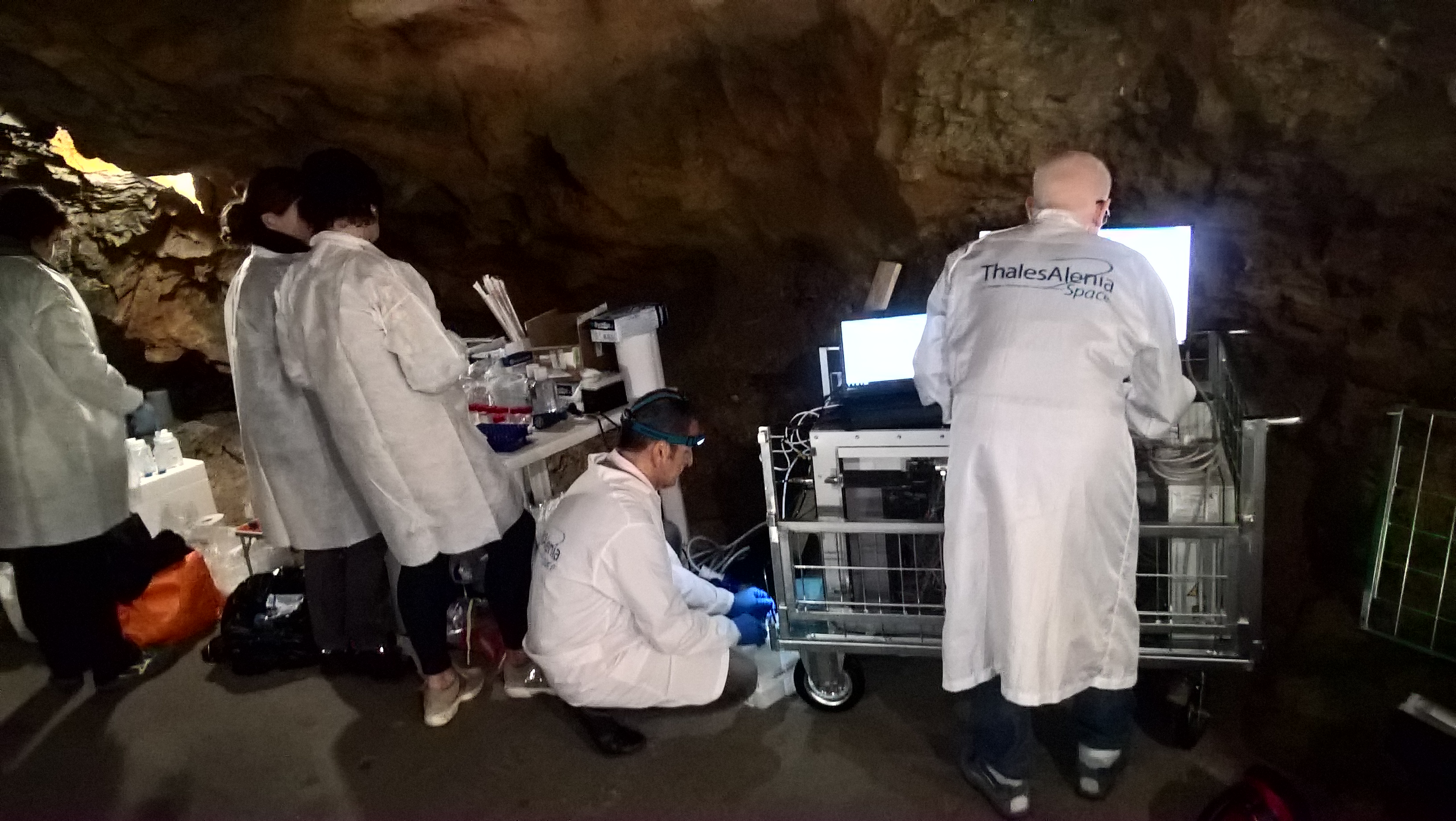 A MOMENT OF "SPATIAL" RESEARCH IN THE CAVE OF THE WIND